Axios -
Coronavirus dashboard: Catch up fast - 2020-08-11T05:48:47+00:00

---
What should I do? Axios asked the experts:
Other resources:
Subscribe to Mike Allen's Axios AM to follow our coronavirus coverage each morning from your inbox.
Trump whisked out of press briefing after shooting outside White House - 2020-08-11T04:06:03+00:00

President Trump was escorted out of a coronavirus press briefing by a Secret Service agent on Monday evening after law enforcement reportedly shot an armed suspect outside of the White House.
What's new: The 51-year-old suspect approached a uniformed Secret Service officer on the corner of 17th Street and Pennsylvania Avenue NW, near the White House, and said he had a weapon, the agency alleged in a statement late Monday. He "ran aggressively towards the officer, and in a drawing motion, withdrew the object from his clothing."
---
"He then crouched into a shooter's stance, as if about to fire a weapon. The Secret Service officer discharged his weapon, striking the individual in the torso. Officers immediately rendered first aid to the suspect. Both the suspect and the officer were transported to local hospitals."
Excerpt from Secret Service statement
The White House complex was not breached, per the Secret Service.
The Secret Service will conduct an internal review into the incident, which is also being investigated by the Metropolitan Police Department — a standard protocol in such situations.
Of note: Trump returned to the podium some 10 minutes after leaving and informed reporters of the news. He confirmed the suspect had been taken to the hospital.
The president praised the Secret Services agents, saying they do a "fantastic job" and he feels "very safe" with their protection.
Editor's note: This article has been updated with new details throughout.
Protests in Belarus turn deadly following sham election - 2020-08-11T03:53:28+00:00

Protesters and security forces have been clashing across Belarus overnight in a second night of protests that has left at least one person dead, hundreds injured and thousands arrested.
Why it matters: Sunday's rigged presidential elections have yielded political uncertainty unlike any seen in Aleksander Lukashenko's 26-year tenure. After claiming an implausible 80% of the vote, Lukashenko is using every tool in the authoritarian arsenal to maintain his grip on power.
---
Driving the news: The results have been challenged by Svetlana Tikhanovskaya, a former teacher who stood in for her jailed husband as a candidate and managed to unite the opposition behind her. She's now believed to be in hiding for her own safety.
Authorities arrested 3,000 people last night and have partially shut down the internet, but demonstrations are nonetheless raging in several cities. Videos of protesters being beaten, some to unconsciousness, have inflamed public anger.
Opposition activists are reportedly also planning strikes. Lukashenko has dismissed their efforts as futile attempts "to spoil the holiday."
"I warned that there wouldn't be a Maidan, however much some people want that," he said, referring to the 2014 revolution in neighboring Ukraine.
The first death confirmed by authorities came when an explosive device a protesters had intended to throw detonated in his hand, according to the interior minister.
Breaking it down: Lukashenko's know-nothing approach to the pandemic — he kept the country open and prescribed vodka and exercise — seemed to catalyze discontent with his Soviet-style leadership.
"In the previous elections, there was always a feeling that the majority either supports President Lukashenko or is at least indifferent enough to accept him," said Alyaksey Znatkevich, a journalist for Radio Free Europe in Belarus.
"There was always this argument: 'OK, the results may be falsified, but there are obviously more people who support Lukashenko than support the alternative candidates. This perception has changed now — not only in the capital, Minsk, but in the regional cities, the smaller towns."
For the first time, analysts say, the government realized the majority might very well be against them. Then came the arrests, and later the vote-rigging.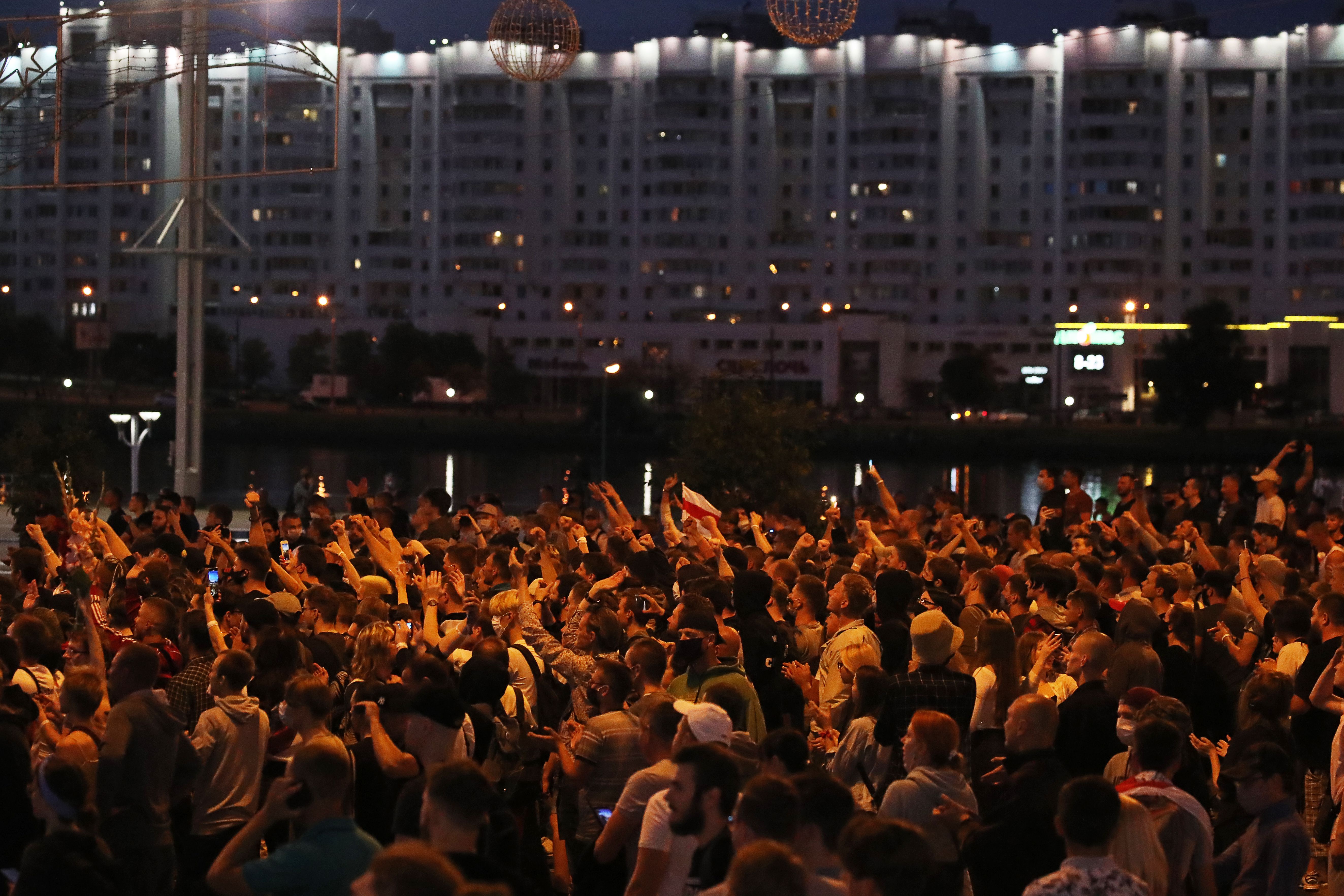 The scene Monday night in Minsk. Photo: Natalia Fedosenko/TASS via Getty
The big picture: Monday night's events in Minsk will be watched closely in Moscow and Washington. While Lukashenko has long played Russia and the West off each other, he now risks alienating both.
In December, he rebuffed the Kremlin's push toward a Russia-Belarus political union. When Russia subsequently halted oil exports to Belarus, the U.S. sensed an opportunity.
Secretary of State Mike Pompeo visited Belarus in February, smiling alongside Lukashenko and vowing to export all the oil Belarus needed to ensure its "independence."
In April, the U.S. nominated its first ambassador to Belarus in a decade. Both the U.S. and EU discussed further loosening sanctions imposed after a previous post-election crackdown.
In Belarus, public support for the Russia-Belarus union fell from 60% to 40% over the last year, per the NYT, while support for joining the EU (currently a remote prospect) rose to a new high of 32%.
Then, in a bizarre preelection incident, Belarus arrested 33 Russian mercenaries, whom Lukashenko accused of plotting an attack.
What to watch: The pendulum may now swing back. Putin was quick to congratulate Lukashenko on his "victory," and emphasize "the further development of mutually beneficial Russian-Belarusian relations in all areas."
Pompeo, meanwhile, condemned elections he described as "not free and fair," along with the "ongoing violence against protesters and the detention of opposition supporters."
Data: Axios Research; Chart: Andrew Witherspoon/Axios
It may seem that Lukashenko has "nowhere to turn," after alienating Belarusians, angering Russia and repelling the West, notes Carnegie Moscow's Maxim Samorukov.
In fact, Samorukov writes, Lukashenko remains the best bet for the uncertainty-fearing elites in Minsk and Moscow, while policymakers in the West still see him as "the best available guarantor of Belarus's sovereignty."
"Outdated regimes can prove extremely resilient if favored by broader geopolitics," he writes. "The same may prove true for Lukashenko, who, from his position atop a geopolitical fault line, will weather every storm as long as Russia and the West mistrust him less than they do each other."
The big picture: Lukashenko has weathered more storms than most. Just nine leaders who were in power when he was elected in 1994 — during Bill Clinton's first term — are still in office.
Trump admin "deeply concerned" by Hong Kong pro-democracy media tycoon's arrest - 2020-08-11T02:17:31+00:00

National Security Adviser Robert O'Brien said in a statement Monday night the Trump administration is "deeply troubled" by the arrest of Hong Kong pro-democracy activist Jimmy Lai on suspicion of "collusion with foreign powers."
Why it matters: The arrest Monday of the most prominent person under the new national security law that gives Beijing more powers over the former British colony comes amid heightened tensions between the U.S. and China.
---
Details: Lai has been bailed, per the BBC. The 72-year-old's son was also arrested, Lai's pro-democracy newspaper the Apple Daily reports
Mark Simon, an executive at the tycoon's media firm Next Digital, tweeted that police had gone to Lai's home after issuing search warrants before heading to Apple Daily's newsroom to conduct a search.
Hong Kong police said in a statement Monday they searched a building in Tseung Kwan O, where Apple Daily's headquarters are located. They said they had arrested seven people on suspicion of breaching the national security law.
"Offences include collusion with a foreign country/external elements to endanger national security," the police added.
What they're saying: "These reported arrests, following the recent action by the Hong Kong government to unjustly disqualify candidates and postpone the Legislative Council elections, are the latest violations of Beijing's commitments to the Hong Kong people and the world," O'Brien said.
"These arrests are also a clear effort to intimidate pro-democracy and political opposition figures and suppress Hong Kong's free and independent media, which have played  key roles in the city's character and success."
Excerpt from O'Brien's statement
Of note: Lai was among a group of activists arrested earlier this year on charges of holding illegal assemblies in August and October related to the massive pro-democracy protests that swept the Asian financial hub last year.
When the national security law was imposed by Chinese lawmakers in June, Lai told the BBC in response that it "spells the death knell for Hong Kong."
Go deeper: With new security law, China outlaws global activism
Editor's note: This article has been updated with new details throughout.
A big hiring pledge from New York CEOs - 2020-08-11T02:00:55+00:00

Leaders of more than two dozen of the New York City area's largest employers — including JPMorgan Chase, Ernst & Young, IBM, McKinsey & Company and Accenture — aim to hire 100,000 low-income residents and people of color by 2030 and will help prep them for tech jobs.
Why it matters: As the city's economy has boomed, many New Yorkers have been left behind — particularly during the pandemic. The hiring initiative marks an unusual pact among firms, some of them competitors, to address systemic unemployment.
---
What's happening: A new group that calls itself the New York Jobs CEO Council says it plans to hire 100,000 New Yorkers over the next decade — with a focus on low-income people and those from Black, Latinx and Asian communities.
That includes hiring and offering apprenticeships to 25,000 students from the City University of New York, whose colleges traditionally serve low-income students and students of color.
The focus will be on training for entry-level technology jobs — for instance, students may be taught to code in Python and other useful computer languages.
The CEO Council has hired Dr. Gail Mellow, who most recently was head of CUNY's LaGuardia Community College, to spearhead the project.
She'll serve as a liaison, letting the CUNY colleges know what type of training the companies need and helping place students at the firms.
The backstory: The initiative started before the pandemic, but has taken on particular urgency since then, as health and income discrepancies have emerged — and as the nation has grappled with systemic racism.
"It's become more clear that companies have to do more in terms of income inequality, and this is one thing that I think will help a great deal," Carmine Di Sibio, CEO of Ernst & Young, tells Axios.
As part of the initiative, companies like E&Y will relax their hiring standards for some entry-level tech jobs — e.g., no longer requiring four-year or advanced degrees.
"Over time, the qualification for these jobs have gotten a lot more difficult versus what is actually needed for these jobs," Di Sibio says.
The bottom line: Many New Yorkers are stuck in low-paying jobs with little hope of advancement, and the New York Jobs CEO Council marks an effort to make a dent in the problem.
"We are using our collective power to prepare the city's workforce the skills of the future, and helping New Yorkers who have been left behind get a foot in the door," says Jamie Dimon, CEO of JPMorgan Chase.
AOC to speak at Dem convention - 2020-08-11T01:12:22+00:00

Rep. Alexandria Ocasio-Cortez will speak at the Democratic convention next week ahead of Sen. Bernie Sanders' appearance on the Tuesday night, CNN first reported and Axios has confirmed
Why it matters: Her involvement is a strategic decision to energize young progressives without tying former Vice President Joe Biden too closely or directly with her agenda.
---
She's among several Latinx voices who are scheduled to participate in the convention in various ways.
The big picture: President Trump's re-election campaign is trying to brand Democrats as a party of leftist radicals, creating a challenge for Biden as he seeks to generate maximum turnout without adopting what could be characterized as a far-left agenda.
World coronavirus updates: Cases top 20 million - 2020-08-11T00:20:06+00:00

The number of COVID-19 cases surpassed 20 million worldwide on Monday evening, Johns Hopkins data shows.
The big picture: World Health Organization chief Tedros Adhanom Ghebreyesus told a virtual press conference as the world approached the milestone that 750,000 deaths were set to be recorded this week. "Behind these statistics is a great deal of pain and suffering. Every life lost matters," he said. "But I want to be clear: there are green shoots of hope and... it's never too late to turn the outbreak around."
---
By the numbers: Over 733,100 people have died of the novel coronavirus globally, per Johns Hopkins. More than 12.2 million have recovered from the virus.
Brazil has the world's second-highest number of deaths from COVID-19 (over 101,700) and infections (more than 3 million) after the U.S., which has reported 163,300 deaths and over 5 million cases.
What's happening:
Between the lines: Policy responses to the crisis have been every-country-for-itself and — in the case of the U.S. and China — tinged with geopolitical rivalry. But the scientific work to understand the virus and develop a vaccine has been globalized on an unprecedented scale.
Coronavirus symptoms include: Fever, cough, shortness of breath, repeated shaking with chills, muscle pain, headaches, sore throat and a loss of taste or smell.
Editors note: The graphic includes "probable deaths" that New York City began reporting on April 14. This article has been updated with new details throughout. Check back for the latest. 
Go deeper... The coronavirus: What you can do
Trump says G7 summit will be delayed until after the election - 2020-08-10T23:03:29+00:00

President Trump told reporters on Monday that he wants to delay the G7 summit until after November's election and implied that the decision had already been made.
The big picture: Plans for the summit have already been scrapped multiple times, with proposed venues moving from the Trump National Doral resort in Miami to Camp David. In May, Trump postponed the in-person event in Washington, D.C. to September.
---
What to watch: Trump has said on numerous occasions that he wants to invite Russian President Vladimir Putin to the summit, despite the fact that Russia was kicked out of the G7 for annexing Crimea from Ukraine in 2014.
U.K. Prime Minister Boris Johnson and Canadian Prime Minister Justin Trudeau have both said they would veto attempts to bring Russia back into the G7.
Meanwhile, German Chancellor Angela Merkel declined Trump's invitation to attend the in-person summit in May due to coronavirus concerns
What he's saying: "I'm much more inclined to do it sometime after the election. We were going to do in September. They'd like to do it, we could do it through teleconference or we could do it through a meeting," Trump said.
"But, I sort of am suggesting, I told my people yesterday, actually, why don't we do it sometime after the election when things are a little bit, you have a little more time to think about it, because it's very important. The G7's very important."
"Some people have already accepted, but we're going to be doing it after the election. ... I think it's just a better, calmer atmosphere to have a G7."
5 states set single-day coronavirus case records last week - 2020-08-10T21:24:42+00:00

Data: Compiled by Axios; Map: Danielle Alberti/Axios
Five states set new highs last week for coronavirus infections recorded in a single day, according to the COVID Tracking Project and state health departments. Only one state — North Dakota — surpassed a record set the previous week.
Why it matters: This is the lowest number of states to see dramatic single-day increases since Axios began tracking weekly highs in June, and marks a continued decrease from late July.
---
The state of play:
Aug. 1: No states, although Puerto Rico saw a new high with 1,091 cases.
Aug. 2: Washington state (1,738)
Aug 3: North Dakota (183)
Aug. 4: None
Aug. 5: None
Aug 6: None
Aug 7: Indiana (1,239) and Virginia (2,015)
Aug 8: Wisconsin (1,185)
The big picture: The U.S. saw infections fall or hold steady in most of the country last week, according to a seven-day average tracked by Axios.
What they're saying: Although cases are decreasing since surging this summer, the U.S. is still "right in the middle of the first wave" of the pandemic, NIAID director Anthony Fauci told JAMA Network on Aug. 3.
Editor's note: This story has been updated to include COVID Tracking Project (CTP) data, in addition to data taken directly from state health departments. CTP began reporting non-resident cases as part of Alaska's total case count on July 16.
Go deeper: Coronavirus cases skyrocketing among communities of color
California judge orders Uber, Lyft to reclassify drivers as employees - 2020-08-10T21:14:58+00:00

Uber and Lyft must reclassify their California drivers as employees under a preliminary injunction granted Monday by a San Francisco judge.
Why it matters: The ride-hailing companies, along with other gig economy firms, are resisting classifying their drivers as employees, which labor advocates say would give the workers greater benefits and rights. A new California law codified stricter requirements before companies can classify workers as contractors.
---
The companies are also behind a California ballot measure that would keep drivers as contractors and provide them with some benefits.
The new ruling, which comes in response to a request from California's attorney general, gives the companies 10 days to appeal the decision before it goes into effect. They hope to use that appeal to get a longer stay on the ruling.
From Uber:
"The court's ruling is stayed for a minimum of 10 days, and we plan to file an immediate emergency appeal on behalf of California drivers. The vast majority of drivers want to work independently, and we've already made
significant changes
to our app to ensure that remains the case under California law. When over 3 million Californians are without a job, our elected leaders should be focused on creating work, not trying to shut down an entire industry during an economic depression."
Uber spokesperson
From Lyft:
"Drivers do not want to be employees, full stop. We'll immediately appeal this ruling and continue to fight for their independence. Ultimately, we believe this issue will be decided by California voters and that they will side with drivers."
Lyft spokesperson
A dual coronavirus and flu threat is set to deliver a winter from hell - 2020-08-10T20:49:56+00:00

The hope and promise of May is gone, replaced by the realization that America is in for another miserable year of COVID-19.
Why it matters: Another winter — and another flu season — is on the way as the U.S. engages in a whack-a-mole strategy that slows down the virus in one region, but sees it flaring up in another.
---
"Unless Americans use the dwindling weeks between now and the onset of 'indoor weather' to tamp down transmission in the country, this winter could be Dickensianly bleak," public health experts told STAT's Helen Branswell.
"I think November, December, January, February are going to be tough months in this country without a vaccine," said Michael Osterholm of the University of Minnesota.
The stark results:
Our schools are increasingly desperate, and parents too. Online education isn't the same for adults, let alone elementary students.
To cap it all off, our entertainment options are running dry. Studios haven't been filming and there are dimming prospects for fall college sports.
The big picture: No other rich nation has anything close to our level of sustained outbreak, so no other rich nation will have anything close to our level of misery in the 2020-21 school year.
Europe is reporting a new outbreak, as have nations in Asia.
But they have repeatedly done what we haven't since the weather warmed up — successfully put the screws on community spread.
The bottom line: This may be the most miserable school year ever for many people, and a groundswell event that could forever alter the life trajectory for many of America's kids.
At least 48 local public health leaders have quit or been fired during pandemic - 2020-08-10T19:54:28+00:00

At least 48 local and state-level public health leaders have retired, resigned or been fired across 23 states since April, according to a review by the AP and Kaiser Health News.
Driving the news: California public health director Dr. Sonia Angell resigned on Sunday without explanation, a few days after the state fixed a delay in reporting coronavirus test results that had affected reopenings for schools and businesses, AP reports.
---
New York City health commissioner Oxiris Barbot also resigned last week, citing "deep disappointment" that Mayor Bill de Blasio did not use the full extent of available disease control expertise to handle the pandemic.
Ohio health director Amy Acton, who helped shape Gov. Mike DeWine's (R) stringent response to the pandemic, resigned in June and said the demands of the job were not a "sustainable thing." Republican lawmakers attempted to strip her of the authority to issue lasting state health orders in May and protesters picketed outside of her home on multiple occasions.
West Virginia Public Health Commissioner Cathy Slemp was forced to resign in June after Gov. Jim Justice (R) openly criticized her at a press conference for allegedly overreporting the number of active coronavirus cases in the state.
Why it matters: The U.S. is reporting the most coronavirus cases and deaths in the world and has still not controlled the outbreak. The country's day-to-day response has largely been guided by local leaders — governors, mayors, and the health officials they rely on for recommendations.
Between the lines: "Public health leaders from Dr. Anthony Fauci down to officials in small communities have reported death threats, intimidation and personal attacks on themselves or their families," per AP.
Many of the resignations and firings are related to conflicts over shutting down businesses to enforce social distancing or issuing statewide face covering mandates, the CEO of the National Association of County and City Health Officials told AP.
Fauci said last week that his daughters and other members of his family were receiving death threats and harassment, telling CNN that he wouldn't have imagined in his "wildest dreams" that people would threaten officials over "pure public health principles."
House will not hold votes until Sept. 14 unless deal is reached on coronavirus stimulus - 2020-08-10T19:30:56+00:00

House Majority Leader Steny Hoyer (D-Md.) announced Monday that the House will not hold any floor votes until Sept. 14, though members will remain on 24-hour notice to return to Washington in case a deal on coronavirus stimulus is reached.
Why it matters: Democrats and the Trump administration remain deadlocked and have not met since negotiations broke down without a deal on Friday.
---
In the meantime, President Trump has signed four executive actions to provide economic relief, which House Speaker Nancy Pelosi and Senate Minority Leader Chuck Schumer have slammed as "weak" and "absurdly unconstitutional."
The Senate remains in session this week but does not have any floor votes scheduled.
What they're saying: Senate Majority Leader Mitch McConnell (R-Ky.), who has not been involved in the negotiations between the White House and Democrats, criticized Pelosi for holding up a deal by demanding funding for state and local budgets that have been decimated by the pandemic.
"Republicans want to send cash right now for schools, testing, and unemployment benefits, and argue over state bailouts later," McConnell said on the Senate floor Monday, adding that the GOP has done "everything possible" to reach a stimulus deal.
Hoyer said in a statement: "Unfortunately, while it has been nearly three months since the House passed the Heroes Act to provide assistance to families, increase testing and tracing, and help state and local governments keep teachers, first responders, and other essential workers on the job, Republicans have refused to act."
What to watch: Congress must also pass a deal on government funding before it expires on Sept. 30. "We cannot risk a government shutdown in the middle of a pandemic and an economic crisis," Hoyer said.
Go deeper: Pelosi, Schumer say July jobs report underscores need for next coronavirus stimulus
Trump says he'll accept nomination at White House or Gettysburg - 2020-08-10T17:55:25+00:00

President Trump tweeted Monday that he'll deliver his speech accepting the Republican nomination for president at either the Gettysburg battlefield in Pennsylvania or at the White House.
The state of play: Republican National Convention planners are looking for a new venue for the president to deliver his acceptance speech after convention events were canceled in Jacksonville, Fla., due to coronavirus concerns.
---
The big picture: A number of Republicans — not to mention Democrats — have questioned both the optics and the legality of Trump delivering his acceptance speech from the White House, given that past presidents have usually drawn a firm line between the White House and their campaigns.
Trump has long compared himself to Abraham Lincoln, telling Axios' Jonathan Swan that he "did more for the Black community than anybody with the possible exception of" the Civil War-era president.
The president would likely love the optics of delivering a speech at the site of the Gettysburg Address, one of the most famous presidential speeches in history.
Lebanon's prime minister resigns in wake of deadly explosion - 2020-08-10T16:45:08+00:00

Lebanon's prime minister and cabinet have resigned amid massive protests in the aftermath of a deadly explosion in Beirut that killed more than 160 people, injured 6,000 and left roughly 250,000 homeless.
Why it matters: Protesters blame the incompetence of the ruling elite — widely viewed as corrupt — for the disaster. The unstable and deeply distrusted government will remain in place in a caretaker capacity until a new prime minister is selected.
---
Driving the news: Three cabinet ministers resigned in recent days, making Prime Minister Hassan Diab's position increasingly untenable. The entire cabinet resigned on Monday, Health Minister Hamad Hassan told reporters. Diab then addressed the nation to offer his own resignation. He took office in December.
"I discovered that corruption is larger than the state, and that the state cannot overpower it."
Prime Minister Hassan Diab
Between the lines: "[T]he resignation of Lebanon's government does not mean early elections. It means the appointment of a new prime minister by the existing parliament, and all the political issues that come with it," the Economist's Gregg Carlstrom points out.
Lebanese politics is a corrupt and generally ineffective balancing act between the interests of powerful factions, including Hezbollah.
The militant group dominates Lebanon's parliament, and its ally Iran has warned that it must not be sidelined as Western governments tie recovery aid to political reforms.
The big picture: Lebanon was already suffering through the coronavirus pandemic and a crippling financial crisis before last Tuesday's explosion, and many government services — from garbage collection to electricity — were limited or lacking altogether.
Then came the explosion of 2,750 tons of ammonium nitrate. Protesters blame corruption and incompetence for it having been left insufficiently secured in Beirut's port for nearly seven years. They have called for the entire ruling elite to fall.
An international aid conference on Sunday raised $300 million in pledges from countries and international organizations, but leaders warned the money would not be disbursed without reforms of Lebanon's politics and economy, per the AP.
Go deeper: What's next for Lebanon after the Beirut explosion
Riot police and protesters clash in Belarus after "Europe's last dictator" claims election win - 2020-08-10T16:16:20+00:00

Riot police clashed with protesters in Belarus overnight after a government exit poll predicted Sunday President Aleksander Lukashenko, an authoritarian who has ruled the Eastern European country since 1994, had overwhelmingly defeated a pro-democracy opposition candidate.
The latest: U.S. Secretary of State Mike Pompeo condemned the election as "not free and fair" on Monday and urged the Belarusian government to "refrain from use of force" against protesters who have taken to the streets. At least one person has died in the protests, while hundreds have been injured and thousands arrested.
---
Why it matters: It's a precarious moment for the former Soviet republic, where decades of repression and a complete disregard for the coronavirus pandemic threaten to topple "Europe's last dictator." Rights groups said at least one protester was killed and dozens more wounded in a "police crackdown," per AP.
It was the darkest day in Belarus modern history. Government waged a war against his people, brought army in cities, and targeted unarmed people with pepper spray, water cannons, guns and stun grenades. pic.twitter.com/zBDGJ2T4Ie

— Franak Viačorka (@franakviacorka) August 9, 2020
The state of play: Opposition candidate Svetlana Tikhanovskaya, a teacher who replaced her husband on the ticket when he was arrested for launching his campaign, is claiming victory based on results from 20 polling stations, where a spokesman told the Globe and Mail her vote share was "two, three, four times" that of Lukashenko.
The government exit poll that triggered Sunday's protests, which had been ongoing at a smaller scale for weeks, showed Lukashenko with 79.7% of the vote and Tikhanovskaya with 6.8%.
Tikhanovskaya, had not been seen or heard from for hours on Monday after filing a complaint at the Central Election Commission. Her team later issued a short and mysterious statement, saying: "Svetlana Tikhanovskaya has made contact. She's fine."
In the meantime, thousands of Belarusians have taken to the streets in cities all over the country to protest the allegedly rigged results.
They've been met in many instances with riot police and other security forces, who have been documented on social media deploying tear gas and violently attacking protesters.
Convoys of military personnel were filmed moving into the capital of Minsk, where main roads into the city have been blocked off. The internet was also reported to have been shut down late Sunday.
What they're saying: "As neighbors of Belarus, we call on Belarusian authorities to fully recognize and uphold basic democratic standards," the presidents of Poland and Lithuania said in a joint statement.
"We urge to refrain from violence and call for respect of fundamental freedoms, human and citizen rights including the rights of national minorities and freedom of speech."
"We are convinced that closer cooperation with the European Union is in the interest of Belarus, we want the doors for this cooperation to remain open and stand ready to continue to provide further support to Belarus in deepening its relations with the united European family."
European Council President Charles Michel tweeted: "Violence against protesters is not the answer #Belarus. Freedom of speech, freedom of assembly, basic human rights must be upheld."
European Commission President Ursula Von der Leyen called on Belarusian authorities to ensure an accurate vote count and said the EU is "ready to support the process of de-escalation and dialogue that would lead to democratisation and a closer, more intense EU-Belarus Partnership."
White House press secretary Kayleigh McEnany said at a briefing Monday that the Trump administration is "deeply concerned" about the Belarus election and urged the government to "respect the right to peaceably assemble and refrain from the use of force."
This story is developing. Please check back for updates
On the ground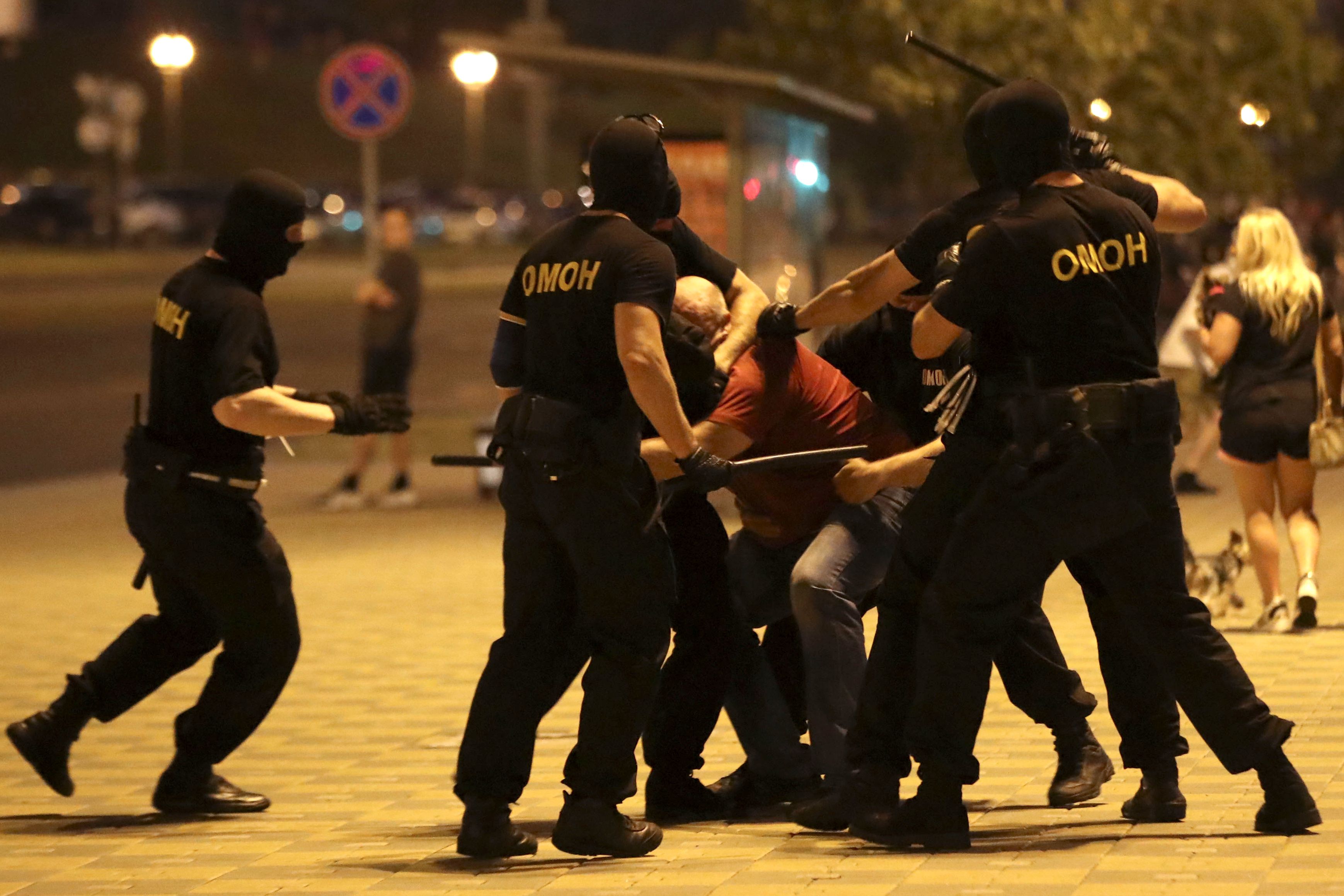 Law enforcement officers detain a protester in Minsk. Photo: Natalia Fedosenko/TASS via Getty Images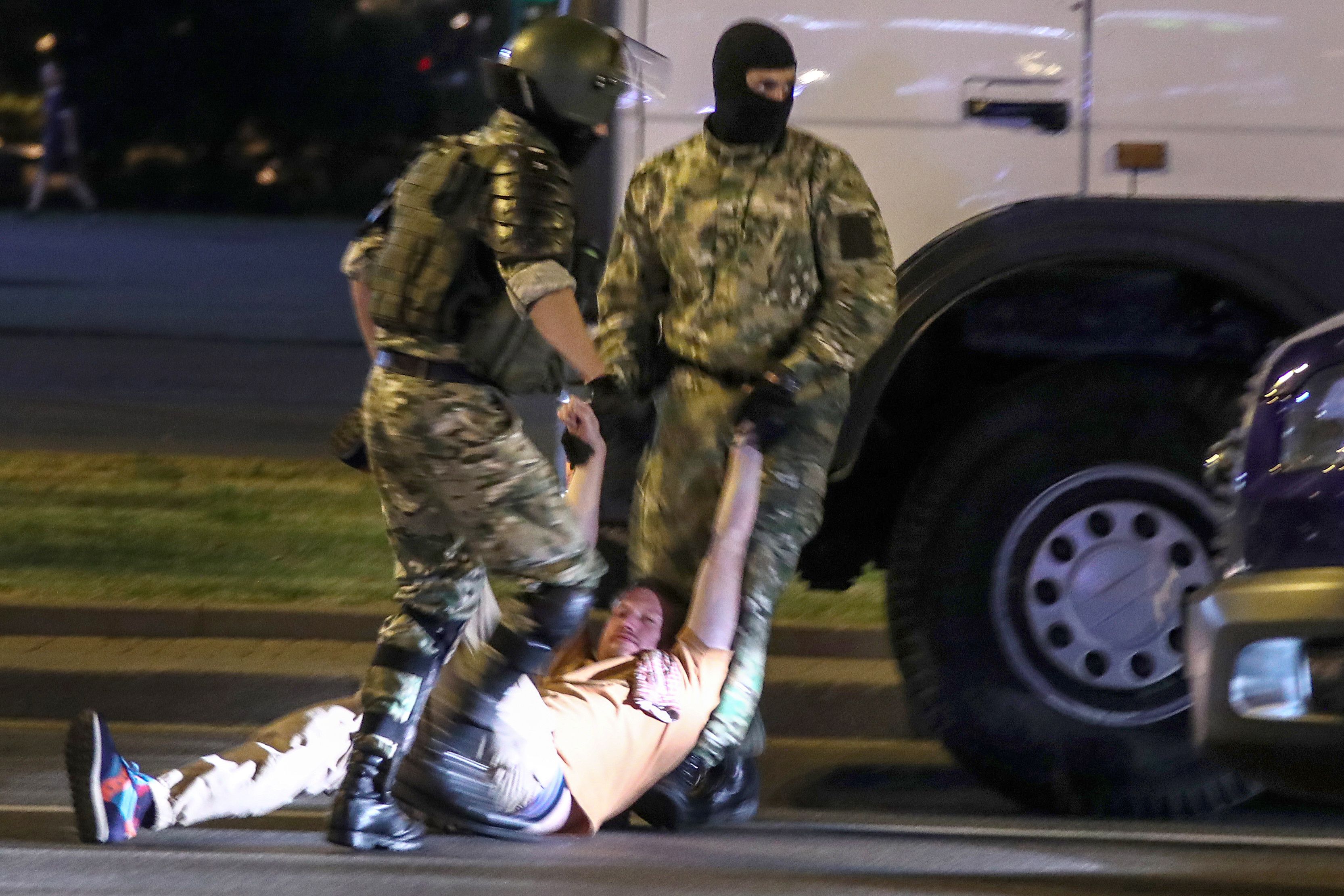 Riot police detain a protester in Minsk. Photo: Valery Sharifulin/TASS via Getty Images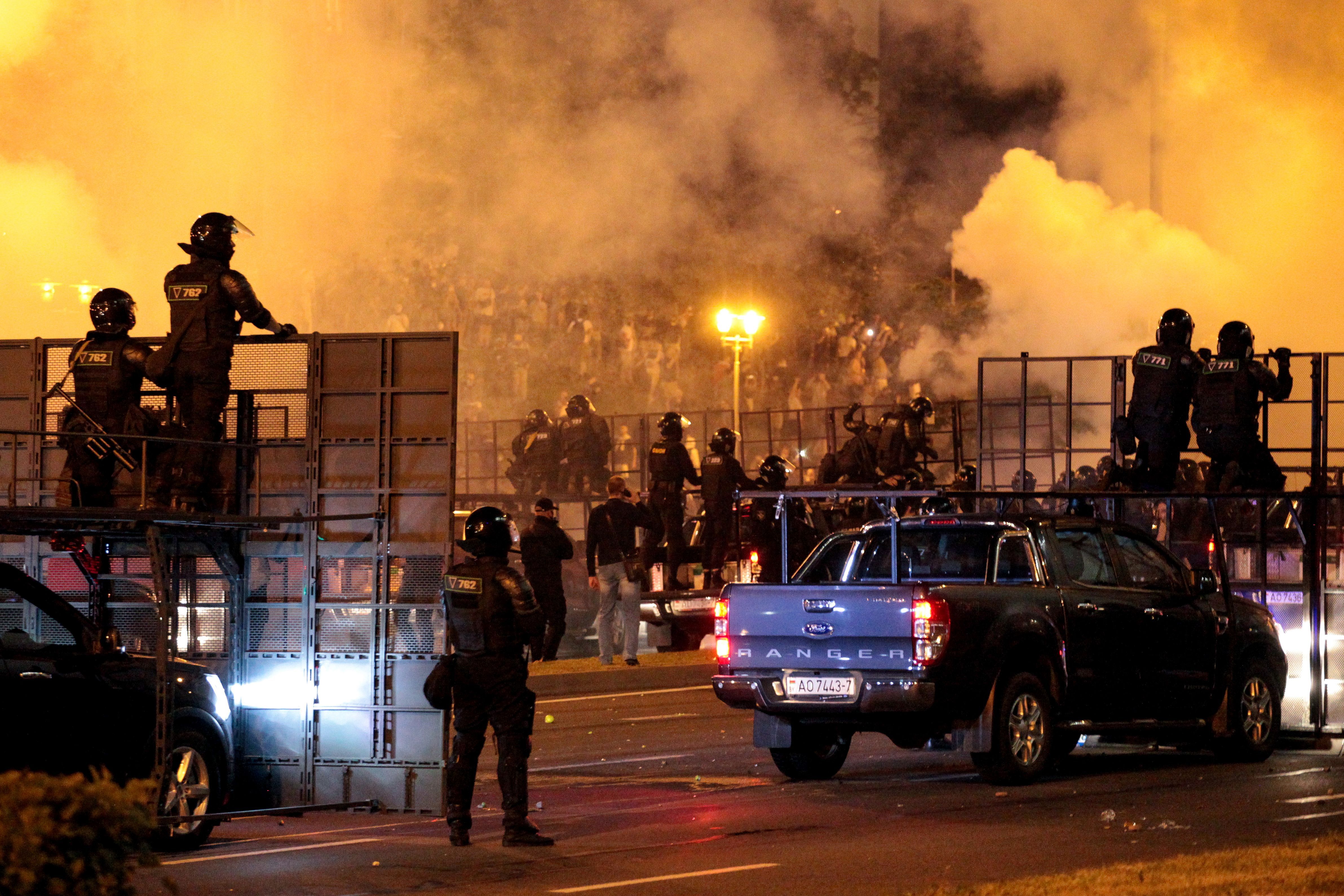 Riot police disperse protesters in Minsk. Photo: Siarhei/AFP via Getty Images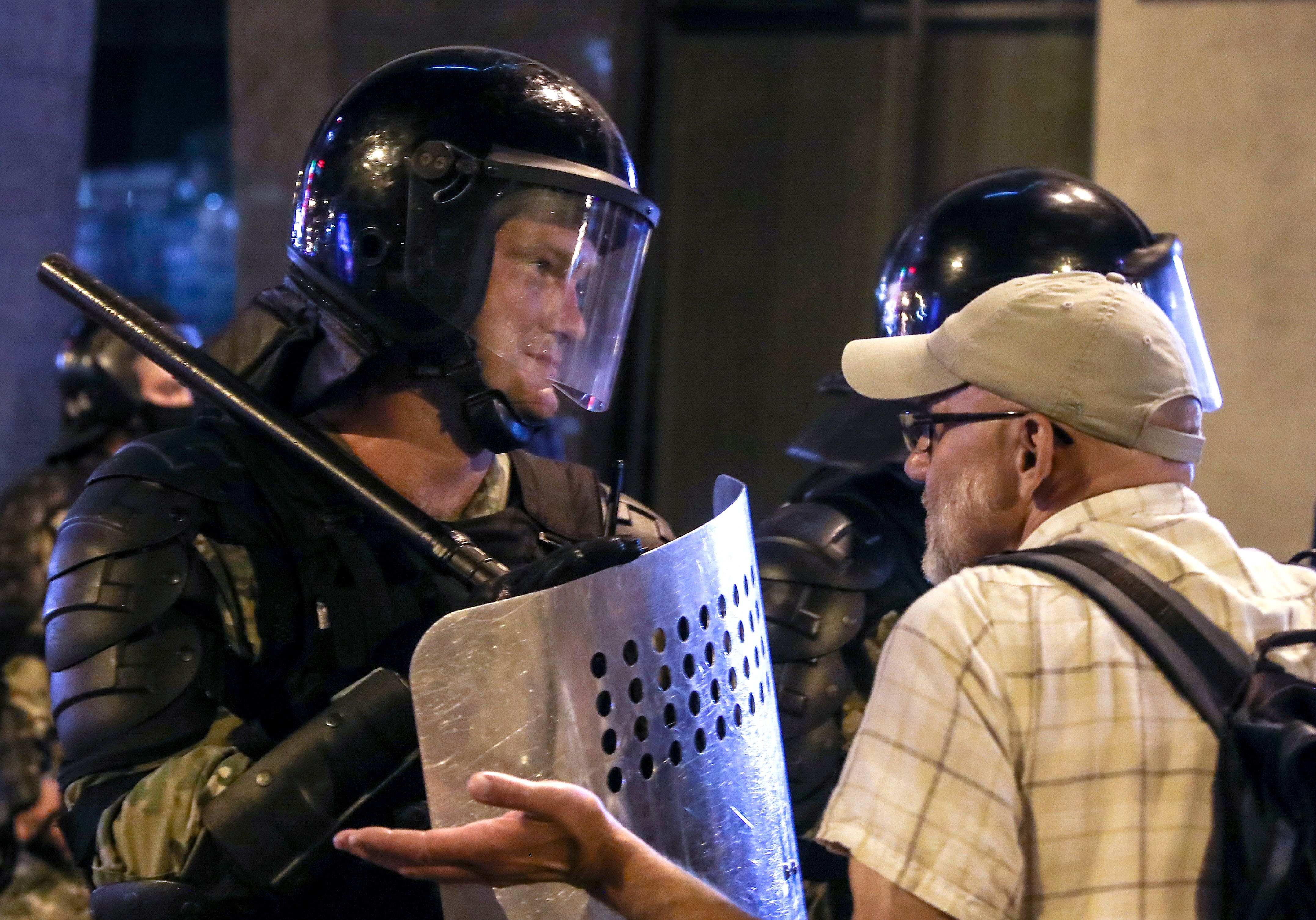 A man talks to a riot police officer during the protest in Minsk. Photo: Valery Sharifulin/TASS via Getty Images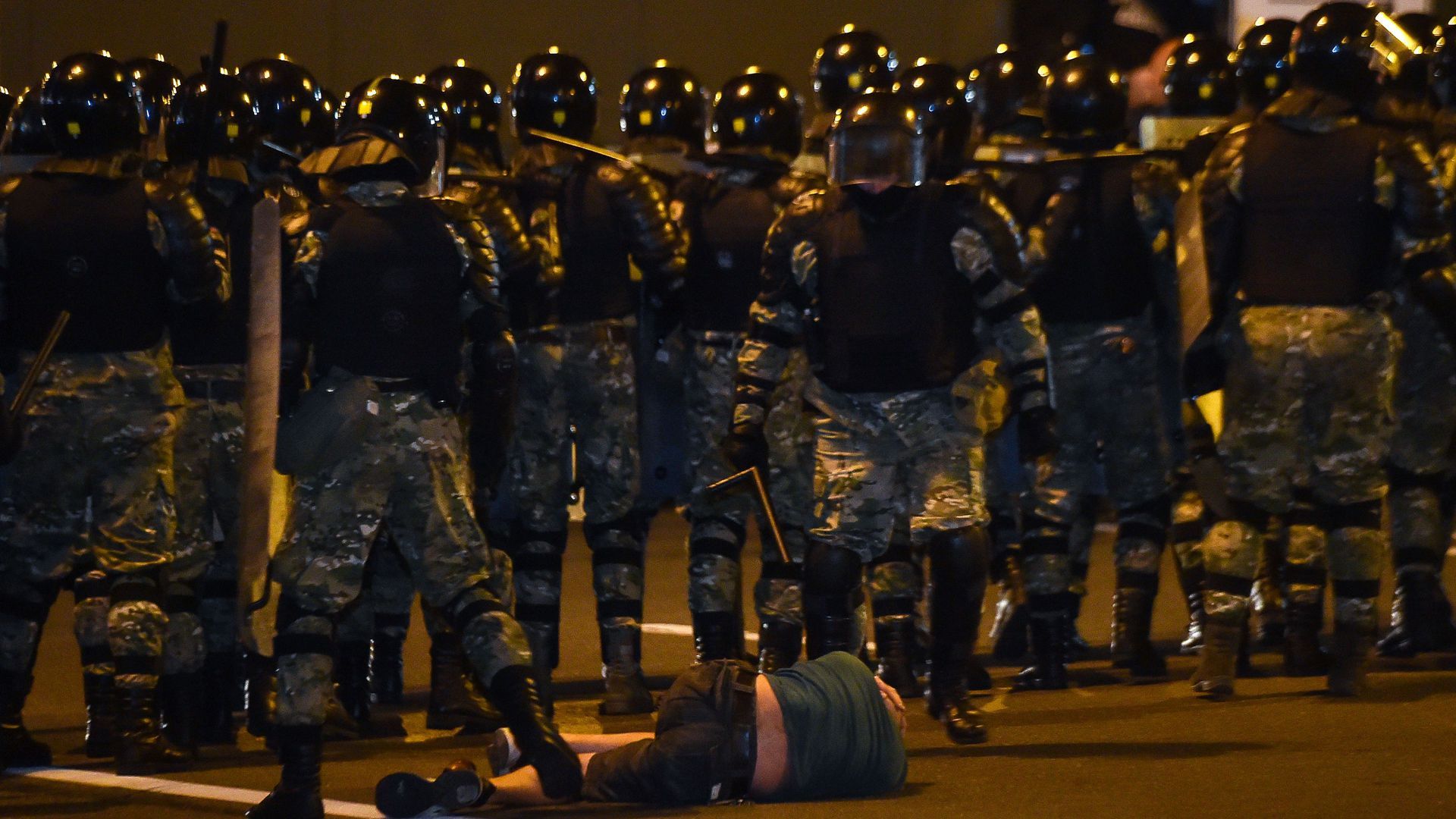 A man lies on the ground in front of riot police in Minsk. Photo: Sergei Gapon/AFP via Getty Images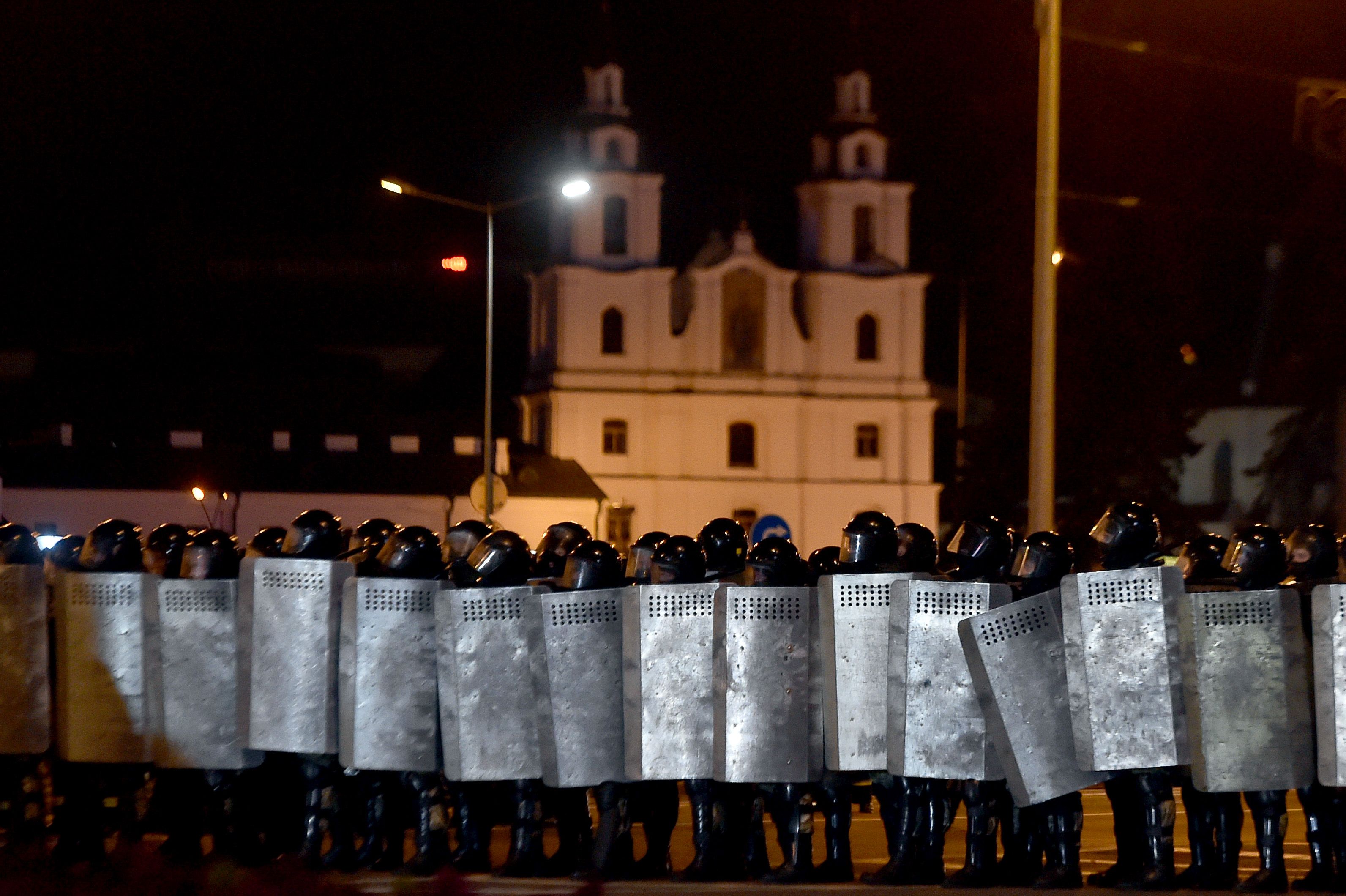 Riot police block an area after polls closed in Minsk. Photo: Sergei Gapon/AFP via Getty Images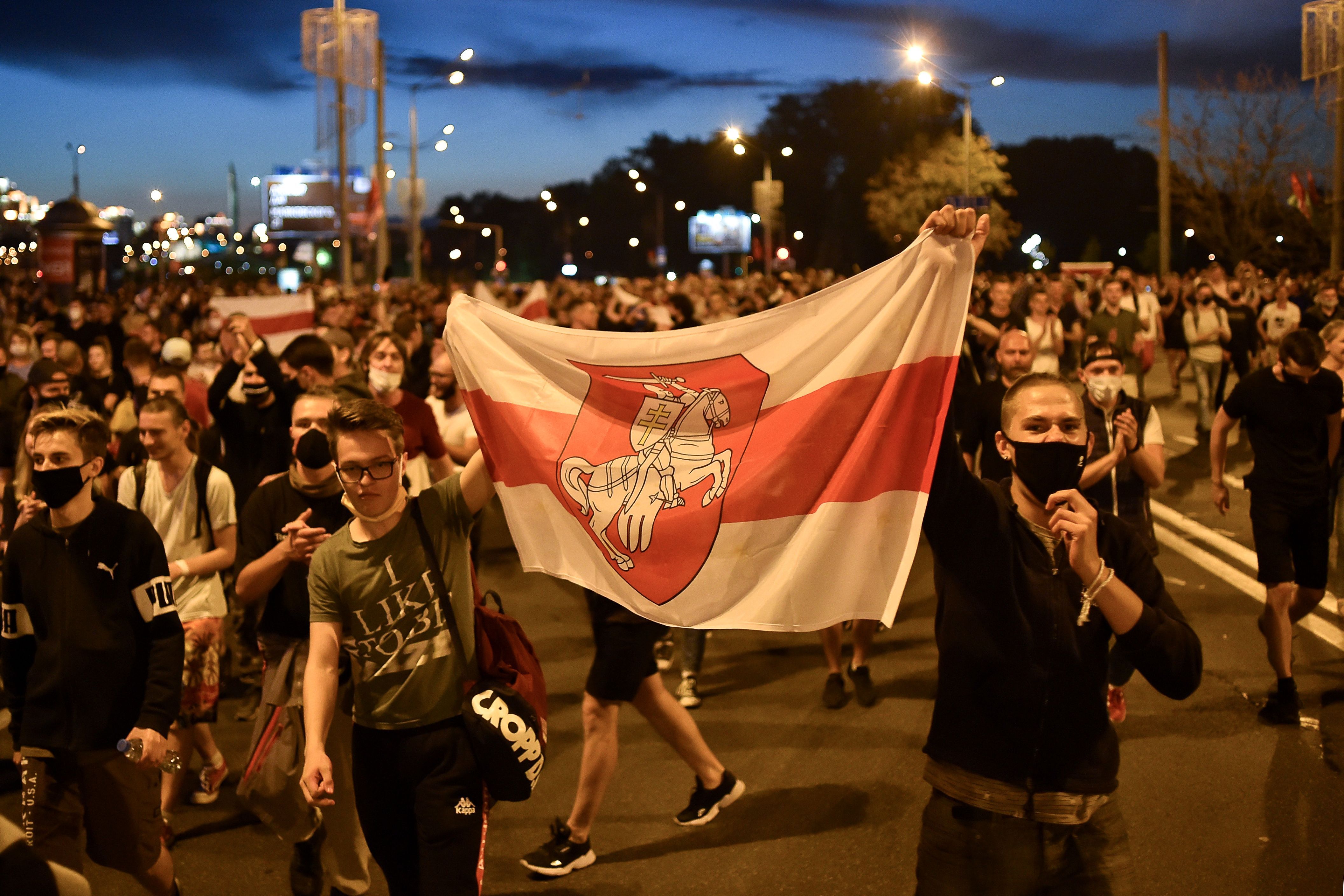 Opposition supporters in Minsk. Photo: Sergei Gapon/AFP via Getty Images
The footage streaming in from Minsk, in spite of an internet blockade and reports the army has been deployed against protesters, is just incredible pic.twitter.com/B341GHSXHB

— max seddon (@maxseddon) August 10, 2020
❗️Police truck hitting a protester in Minsk at speed pic.twitter.com/mVChTwLeP1

— Tadeusz Giczan (@TadeuszGiczan) August 9, 2020
The dramatic video of the crackdown in Minsk. Happening now. pic.twitter.com/LOZb0uRaqx

— Franak Viačorka (@franakviacorka) August 9, 2020
Wild video of ongoing clashes in Belarus between protesters and riot police. pic.twitter.com/KgThrFba4y

— Christopher Miller (@ChristopherJM) August 9, 2020
Twitter jumps into the fray for TikTok - 2020-08-10T14:59:03+00:00

Twitter is the latest to join the cast of the ongoing spectacle that is TikTok's battle to stay open for business in the U.S., per a new report from the Wall Street Journal.
Why it matters: The saga to keep TikTok available to U.S. users is getting more complicated, with the company already in a President Trump-imposed time crunch and juggling a number of options.
---
Between the lines: Twitter's interest is a tacit admission that it shouldn't have failed Vine, a short video app it acquired that's widely seen as TikTok's precursor. Twitter shut down the app in early 2017.
Like other tech companies, Twitter has acquired a number of startups over the years, at times to gain their products and tech while others to gobble up talented employees.
The state of play: Here's a look at Twitter's product-focused acquisitions...
Vine: Acquired in 2012, the app for making 7-second looping videos exploded in popularity and created a generation of video stars who made entertaining videos with nothing more than a smartphone. However, as the company failed to figure out how to help these users monetize their popularity, they fled to other services, and Twitter shuttered the app in 2017.
We Are Hunted: Twitter quietly acquired the startup in 2012 and repurposed it into a music discovery app it released the following spring. Despite the continued popularity of music artists on Twitter's main service, the company shut down the separate app in early 2014.
Periscope: Acquired in early 2015 before it had even debuted its service, Periscope became Twitter's answer to live video-streaming app Meerkat, which had exploded in popularity during SXSW. Though the app is still available, it's not longer as popular and its leadership has moved onto higher-profile jobs within Twitter.
TweetDeck: Three years after its founding, Twitter acquired the beloved user dashboard. Today it's still available, though some power users have been grumpy about various changes over the years.
Yes, but: Twitter is now a 14-year-old public company that's hopefully learned from its mistakes — and TikTok is already a well-formed product that Twitter wouldn't have to build from near-scratch. (Twitter declined to comment on the reports of talks with TikTok.)
On the other hand, it's also unclear how plausible the transaction would be — Twitter's own market cap is at about $30 billion, with around $7.8 billion in cash and short-term investments as of June.
The price tag for TikTok could be as high as $30 billion, per media reports.
The bottom line: TikTok has until Sept. 15 to broker a deal — per President Trump — so the clock is ticking.
Downtown Chicago hit by widespread looting after police shooting - 2020-08-10T14:15:56+00:00

Chicago police responded to hundreds of people looting stores and causing widespread property damage in the city's downtown overnight, resulting in at least one exchange of gunfire, the Chicago Tribune reports.
The state of play: Police superintendent David Brown said the event was a coordinated response after an officer shot a suspect on Sunday evening, per CBS Chicago.
---
Chicago Mayor Lori Lightfoot called the incident "brazen and extensive" and not a "protected First Amendment expression."
It disrupted transportation around the downtown area — with both buses and CTA trains impacted into the morning hours. The city also took the step of raising bridges across the Chicago River to limit access downtown.
The big picture: While the looting was centered around the city's Magnificent Mile shopping district, it eventually spread to the neighborhoods of River North, Streeterville, Lincoln Park, the Gold Coast and the South Loop, NBC Chicago reports.
More than 100 arrests have been made and at least 13 officers were injured.
What they're saying:
Brown: "This was not an organized protest. This was pure criminality — violence against police and our city," Brown said at a press conference Monday morning.
Lightfoot: "There is no justification for criminal behavior, ever. You have no right, no right, to take and destroy the property of others. Our residents deserve to be safe. Our businesses deserve to understand and enjoy safety and security of their property and in their employees. And our police officers deserve to be able to do their job without having to worry about shots being fired, projectiles being thrown and being maced."
McDonald's sues former CEO, alleging he lied about relationships with employees - 2020-08-10T13:43:39+00:00

McDonald's on Monday sued its former CEO Steve Easterbrook, seeking to recoup tens of millions in severance benefits while alleging he took part in and concealed undisclosed relationships with company employees, per the New York Times.
Why it matters: Corporations have traditionally chosen to ignore executive misbehavior to avoid bad press, but they have become more proactive — especially with the rise of the #MeToo and Black Lives Matter movements — in addressing issues head-on.
---
The state of play: Easterbrook was fired last fall after McDonald's discovered that he had taken part in a consensual relationship with an employee and violated company policy.
The lawsuit alleges Easterbrook had additional consensual relationships with three employees in his final year at the company, and gave company shares to one of them.
McDonald's claims that Easterbrook defrauded the company by covering up these additional relationships and wants to recuperate some $40 million in stock options and other compensation it let him keep after his ouster.
What they're saying: "McDonald's does not tolerate behavior from any employee that does not reflect our values," wrote current CEO Chris Kempczinski in a company memo.
"As we recommit to our values, now, more than ever, is the time to lean in to what we stand for and act as a positive force for change."
"Free enterprise no longer exists": The transformation of the Fed - 2020-08-10T11:55:58+00:00

The Federal Reserve is undergoing an overhaul. Conceived to keep inflation in check and oversee the country's money supply, the central bank is now essentially directing the economy and moving away from worries about rising prices.
What we're hearing: The move to act less quickly and forcefully to tamp down on inflation has been in the works for years, but some economists fear that the Fed is moving too far from its original mandate.
---
It would be "a significant shift because the new strategy I would interpret as one that tries to deliberately engineer higher rates of inflation instead of just tolerate them should they come about," Peter Ireland, an economics professor at Boston College and member of the Shadow Open Market Committee, tells Axios.
"I would worry if I were on the FOMC that the Fed is just trying to do too much fine tuning. ... And that by trying to do too much the Fed does risk making mistakes like it did in the past."
Between the lines: There are other concerns with the Fed's new stance.
"Free market enterprise no longer exists," Scott Minerd, CIO of Guggenheim Partners, tells Axios. "The Fed by essence of what it's doing has taken control of the market."
Why it matters: "The definition of market prices is whatever the Fed says it will be," says Minerd, a member of the New York Fed's Investor Advisory Committee on Financial Markets.
"As long as the Fed continues to manipulate the cost of credit in the manner that it's doing, which it has never done in its history, then you have to adjust your view of the investment paradigm that we're living in."
The big picture: Keeping a lid on inflation historically has been the Fed's primary objective, but with growth and inflation readings undershooting 2% for more than a decade despite near-zero interest rates in the U.S. and developed markets around the world, things look to be changing.
What it means: That change may not only mean lower rates for longer but also more room for stimulative policies like quantitative easing (QE), which was previously an emergency program that has become a standard part of the Fed's tool kit.
There's also long-term potential for its new special purpose vehicles that buy corporate bonds and lend money directly to businesses as mechanisms for holding up larger chunks of the economy.
The intrigue: The idea that the Fed is controlling or setting prices in financial markets was once the fodder of conspiracy theorists and cranks.
But since the Fed's unprecedented intervention into credit markets in late March, it has become a general understanding stated openly by economists and asset managers, including those at high-profile investment firms like Deutsche Bank and Bank of America.
Data: Federal Reserve; Chart: Axios Visuals
Yes, but: Not all of the Fed's new programs have worked as planned. After significant delays, its $600 billion Main Street Lending Program has provided less than one-tenth of 1% of its allotted funding to needy small businesses even as the Paycheck Protection program has whiffed and business closures have spiked.
Be smart: Compare that to the trillions it has used on QE and the billions it has purchased in debt from some of the country's largest companies using a backstop of taxpayer money and it's no wonder politicians and economists have called the Main Street program a "failure" and an "unmitigated disaster."
On the other side: The Fed's efforts to support large companies have helped spawn a "buy-anything market" in which even negatively correlated assets have risen together since the start of the third quarter.
"That creates a bit of a potential political problem for the Fed," Julia Coronado, president and founder of MacroPolicy Perspectives, tells Axios.
"It doesn't feel right to people on the street, on Main Street. ... That's one reason why the Fed is underscoring the need for fiscal [stimulus]."
The push for Congress to approve fiscal spending measures could become another political problem for the central bank, warns Boston College's Ireland, who previously served as an economist at the Richmond Fed.
"I do get the feeling that they've been more aggressive in their commentary on fiscal policy and more generally on non-monetary policy issues."
"In an environment where they should be concerned about preserving Fed independence, they should be conscious of the fact that in turn they stick to talking about what they're supposed to do."
From JR's : articles
2 words - 45 chars
created on
updated on - #
source - versions