1 min
http://toledotalk.com/cgi-bin/tt.pl/article/206706/07Oct2016/Glass_City_Skyway_Pylon_Lighting
enjoyeverysandwich posted at 09:13:28 PM on Oct 07, 2016:
as soon as they can find another Commodore 64 to run the electronics.
quote=206710
Those are hot items. For parts.
September 2016 Gizmodo story : This Old-Ass Commodore 64 Is Still Being Used to Run an Auto Shop in Poland
Yes, the same Commodore 64 released 34 years ago that clocked in at 1 MHz and had 64 kilobytes of RAM. It came out in 1982, was discontinued in 1994, but it's still used to run a freaking company in 2016.
From the Commodore USA's Facebook page
This C64C used by a small auto repair shop for balancing driveshafts has been working non-stop for over 25 years! And despite surviving a flood it is still going...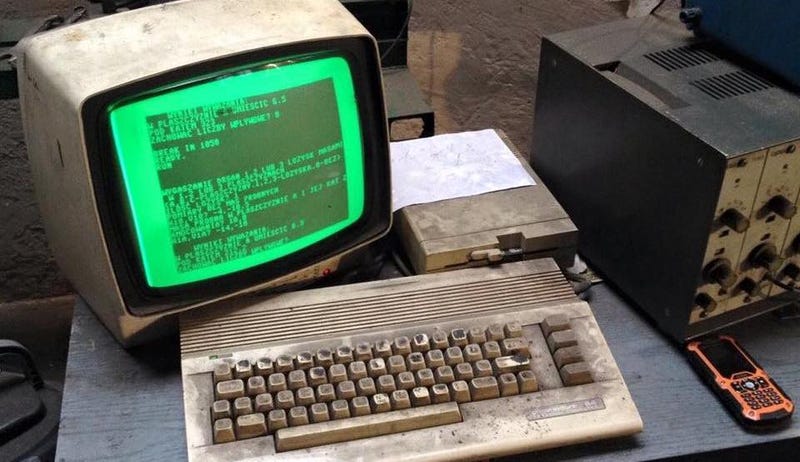 ---

Closer to home ...
June 2015 woodtv.com [Michigan] story : Commodore Amiga controls the heat and air conditioning at 19 Grand Rapids Public Schools - the news story contains a video
The Commodore Amiga was new to GRPS in the early 1980s and it has been working tirelessly ever since. It replaced a computer that was "about the size of a refrigerator."

"The system controls the start/stop of boilers, the start/stop of fans, pumps, [it] monitors space temperatures, and so on," Hopkins explained.

A Kentwood High School student programmed it when it was installed in the 1980s. Whenever the district has a problem with it, they go back to the original programmer who still lives in the area.

Parts for the computer are difficult to find.

"It's a very unique product. It operates on a 1200-bit modem," said Hopkins. "How it runs, the software that it's running, is unique to Commodore."

Hopkins said the system runs on a radio frequency that sends a signal to school buildings, which reply within a matter of seconds with the status of each building.

If the computer stopped working tomorrow, a staff person would have to turn each building's climate control systems on and off by hand. A new, more current system would cost between $1.5 and 2 million.
From JR's : articles
343 words - 2087 chars - 1 min read
created on
updated on - #
source - versions
Related articles
My early introduction to Twitter - Oct 19, 2013
Top tech products from the past 20 years - Mar 03, 2014
Computer industry inventor and thinker Douglas Engelbart dies - July 2013 - Mar 27, 2014
When did the Internet and the Web begin - Dec 05, 2013
History of Hypertext - Mar 27, 2014
more >>